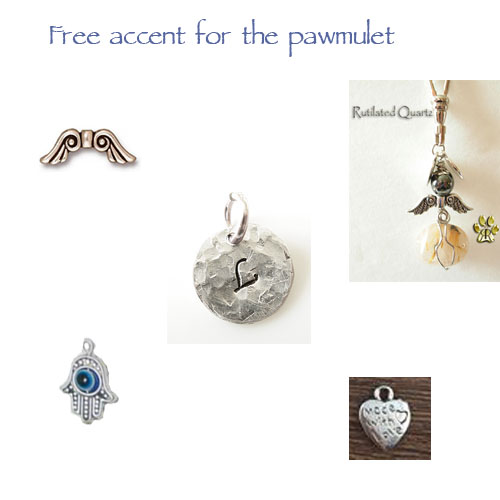 Click to enlarge photos
Pet collar amulet - ANXIETY, Excessive barking, fleas Calming Energy - Protection - Soothing
'PAWMULETS' is addressed to pet owners who like hand-crafted pet accessories that combines artistry with the beauty and power of holistic gemstone and crystals. A "New-Age" healing method that can influence and balance pet's Chakras. A complimentary treatment to the traditional medicine by veterinarian.
Amethyst has a long and fascinating history, believed to be a stone of healing, integrity, purity, and faith. It was in use by Neolithic cultures as long ago as 25,000 B.C. often called the "all-healer "and is known as for the most effective crystals for any type of healing work. Amethyst- is a powerful all round healer.
It helps cleansing the blood, heart and lungs. Amethyst aids with digestion and stomach problems by removing parasites from the intestines and encouraging re-absorption of water and helps an animal deal with pain. Amethyst will boost the immune system, clear negative energy while balancing your pet's energy fields and calms rattled nerves. Amethyst helps to alleviate separation anxiety. It soothes anger and impatience and relieves excessive anxiety and hyperactivity. It stimulates the throat and crown chakras. Amethyst helps with grief after losing a loved one. Animals as well as human experience emotional pain when losing a loved one, might it be a human or pet family member or another in the family. Amethysts soothe fear, stress, panic attacks, disorientation and separations. Amethyst helps elderly or sick animals, who feel quite threatened, lonely, fearful and vulnerable when left on their own at night. Amethyst will moderate excessive barking in dogs and yowling in cats. Amethyst is an excellent stone for calming and healing. It has a very strong energy that acts to Deter Fleas.
•ANXIETY
•EXCESSIVE BARKING,
•CIRCULATION
•CALMING
•SOOTHING
•FLEA CONTROL
Chakra: Brow, Crown
ROSE QUARTZ- support Physical and Psychological Healing. Rose Quartz is considered to be, the perfect stone for love and relationships. It has a gentle vibration of love, which is absorbed by your pet and stimulates a sense of peace happiness.
Rose Quartz corresponds to the heart chakra. It will assist to build a loving and lasting relationship with your pet. Rose Quartz will show your pet your feelings of love and caring. It will also strengthen both the heart muscles and circulatory systems and soothe burns and sore spots on the body while healing them more quickly. It will also help heal the kidneys, adrenals, and thymus glands. It opens the heart to love and peace, which is the natural and most powerful state of being. Rose Quartz aids issues such as: Anger and aggression, Animals that are "bristle", Fear, Muscular tension and rigidity, Nervousness, Past abuse or cruelty, Resentment, Seeing all humans as bad, and Stress-related asthma. Chakras: Heart , Throat
AILMENTS:
• ANGER AND AGGRESSION
• FEAR
• MUSCULAR TENSION AND RIGIDITY
• NERVOUSNESS
• PAST ABUSE
• RESENTMENT
• STRESS ALL HUMANS AS BAD
• STRESS-RELATED ASTHMA
• .ACCEPT LOVE &, COMPANIONSHIP
******
Cleaning the crystals:
Cover or lay your crystal on a bed of brown rice for 24 hours. After cleansing put crystals in moonlight to energize them
HCAMT001 - Amethyst Healing crystal amulet
US$ 25.00
For your complimentary item.
Choose ONLY one option FROM THE FOLLOWING
A- angel wings
B- Hamsa
or
C- Initial Disc with the letter of your choice.
ONLY When choosing HAND HAMMERED DISC,
Add Initials to " NOTE TO SELLER"