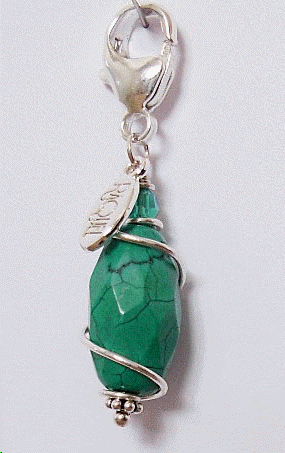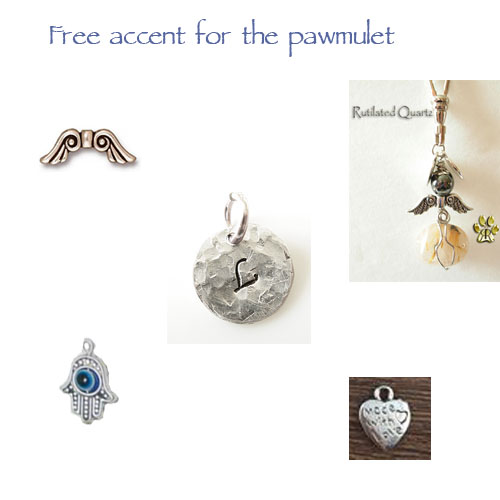 Click images to enlarge
Turqoise helps with just about everything including protection. This healing stone is amazing as a confidence booster if your pet shows signs of being on the shy or nervous. Turquoise is an excellent grounding stone as its vibrations give peace of mind. This stone works to neutralize over-acidity within the body, relieves gout, viral infections, stomach issues, and rheumatism, as well as stimulating muscular strength and growth.
The sodalite bead on top of the turquoise bead will help your pet for joint pains and arthritis
Each Pet Amulet by Raquel is handcrafted with semiprecious gems. A stainless steel lobster clasp attaches to the pet's collar ring and is accompanied with a split ring to accommodate any size of collar ring.
The amulet is made of a genuine turquoise bead encased in stainless steel wire, which is a very reliable and strong wire. It is secured with a silver plated crimp and adorned with a swarovki crystal. Each "Pawmulet" has the Raquel silver tag brand name and a Tibeten silver "made with love" heart charm.
HCTU002 - Turqoise with sodalite bead Healing crystal amulet to
US$ 25.00
For your complimentary item.
Choose ONLY one option FROM THE FOLLOWING
A- angel wings
B- Hamsa
or
C- Initial Disc with the letter of your choice.
ONLY When choosing HAND HAMMERED DISC,
Add Initials to " NOTE TO SELLER"
Price: $ 30.00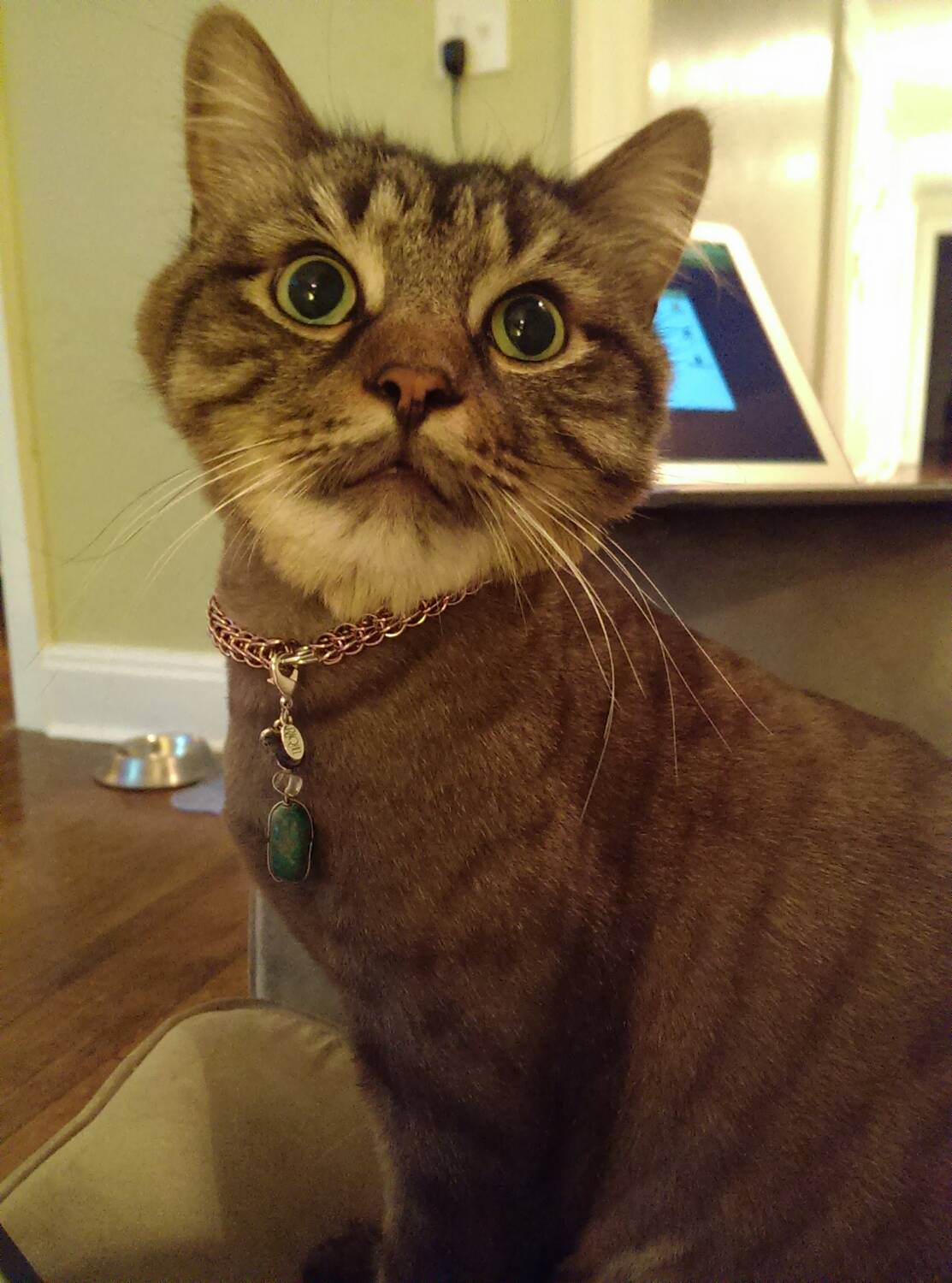 Click image to enlarge

Your Hip pet deserves a little uplifting. As a healing gemstone, turquoise is known to give confidence and bring a sense of well-being and balance. Besides looking amazing, your dog/cat will benefit from the healing attributes of this stunning pendant.
Chakra #5 (Throat)
Turquoise is the Healing Master Stone of illness's of the Physical, Mental and emotional body. The Native Americans consider Turquoise to be a powerful protector!!
INFLUENCES: Thyroid, lungs, respiratory system, forelegs, paws. throat, mouth and vocal cords. WHEN UNBALANCED THE ANIMAL MAY EXPERIENCE-Difficulty communicating, ego, emotions caught in the throat.

The necklace depicted on this sweet cat was hand woven by me using anodized aluminum rings. You can find these collar necklaces on my website: